Our friendly team is excited to meet you! We love welcoming patients to Indy Dental Health, and we take the time to help you understand your oral health and treatment options and make sure you feel comfortable during your time in our office. Please call us today at 317-872-3465 if you have any questions or to schedule an appointment with Dr. Matthew Fraiz, Dr. David Wiener or Dr. Mallory Griffith, our experienced dentists in Indianapolis, Indiana.
Se habla español!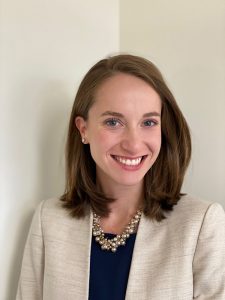 Sarah
Director of Operations
Sarah graduated from the University of Illinois Urbana-Champaign. She recently moved to Indiana from the Chicago area, where she spent six years within the human resources, operations and marketing spaces. Sarah finds joy in ensuring that each patient has a wonderful experience throughout their time within our office.
In her free time, she enjoys exploring Indianapolis with her husband, Royce, and spending time with her family and friends.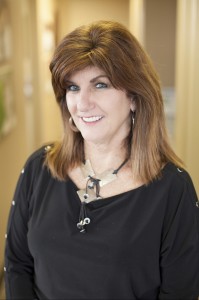 Cindy has been in dentistry since 1972. For over four decades, she has worked alongside various dentists and chooses to team up with Dr. Fraiz at Indy Dental Health. Her work duties includes working up at the front desk, chairside assisting the doctors and performing lab duties. The reason why she still is in dentistry is because she loves the patients! Cindy's people skills are vital to helping patients feel welcome and cared for. She has been married to her husband for over 40 years. They have one son and a granddaughter.
Larissa
Insurance Coordinator
Larissa has been in dentistry since 2009. She has worked alongside various dentists prior to joining our team as an insurance coordinator. Her responsibilities include verification of benefits and coverage requirements, processing of insurance payments, coordination of benefits for patients with multiple dental plans, and ongoing communication with the insurance carriers to solve any claims and coverage related issues.
Larissa grew up in Kazakhstan prior to moving to Germany, where she lived for six years, met and married her husband, Alex, and earned her bachelor's degree in business administration. They moved to California in 2002 and then to Indiana in 2007 for Alex's work.
In her free time, Larissa enjoys reading, spending time with family and friends, and traveling the world.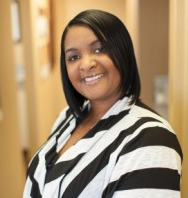 Ty began her journey in dentistry two decades ago as an expanded dental assistant. Along the way, she earned her human resources degree from Harrison College. Ty took her experience and transitioned to the front desk using her administration skills.
It is Ty's gift to help patients navigate their way through their dental treatment plans. She has a vast knowledge of dental procedures, and she welcomes the opportunity to help patients understand the treatments needed to make their smiles shine.
Ty and her husband, Chris, are from Indianapolis, and they have four children and two grandchildren.
Amanda
Licensed Dental Hygienist
Amanda graduated from the University of Southern Indiana in 2011. She previously served patients as a dental hygienist in Tennessee for four years, where her husband, Wes, served as an active duty military member. She and her husband moved to Indianapolis in early 2015.
Amanda takes pride in her work as a dental hygienist and sincerely enjoys caring for her patients one-on-one. She does everything she can to make her patients' dental experiences pleasant. Keeping up to date with the newest dental advances and research by taking continuous education classes is just one of the ways she ensures excellent dental care.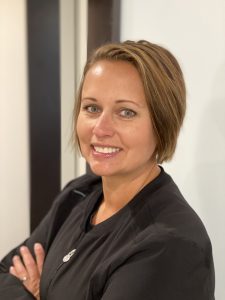 Angie
Licensed Dental Hygienist
Angie has been in the dental industry since 1994. She graduated from the Indiana University School of Dentistry. Angie takes special care of her patients, ensuring they have a pleasant experience while at our office. Her meticulous hygiene skills make her a hygienist that our patients ask for by name.
She is passionate about staying up to date to provide the best patient care. She lives just outside of Indianapolis in Lebanon with her husband, Chip, and her children, Crew and Adra. In her spare time, Angie enjoys spending time with family and friends and putting miles on her road bike.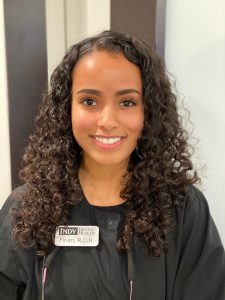 Finan
Licensed Dental Hygienist
Finan is one of our fabulous registered dental hygienists. She received her B.S. degree from Indiana University School of Dentistry and a certificate in public health administration. She truly enjoys educating her patients about their oral hygiene and the relationship to their overall health. Her passion for dentistry is evident in her daily interactions with her patients.
During her free time, Finan loves showing her competitive side during a match of Taboo or card games!
Nelly
Licensed Dental Hygienist
Nelly is a graduate of the Indiana University School of Dentistry with a B.S. degree in dental hygiene with high academic distinction. As the winner of Hu-Friedy's Golden Scaler Award for outstanding clinical performance, she prides herself in optimal patient care and is committed to making your experience at Indy Dental Health feel like home.
Passionate, dedicated and kind are three words that would describe her. In her spare time, you can find her at Starbucks or taking a walk with her Yorkie, Candi.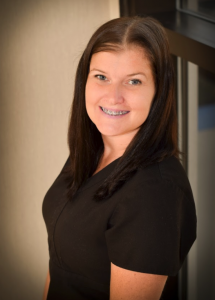 Danni
Expanded Functions Dental Assistant
Danni is one of our expanded dental assistants. Danni has been in dentistry since 2008. She grew up in Crosby, Texas. She is married with three children. She enjoys baseball, hiking, country drives and spending time with her family.
Lori
Expanded Functions Dental Assistant
Lori is one of our fantastic expanded dental assistants. She has been in the dental field since 1996. She is from Crown Point, Indiana. Loris is married with two children and enjoys spending time with her family vacationing and attending country concerts.
Maddie
Expanded Functions Dental Assistant
Maddie grew up in Brownsburg with her parents and two older brothers. She has a puppy, and she went to dental office training and has been working as an assistant since July 2018. She is currently in school to become a dental hygienist.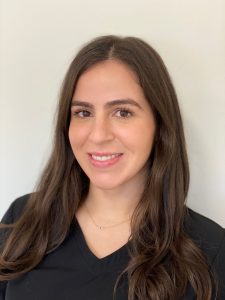 Maria
Expanded Functions Dental Assistant
Maria has been a dental assistant for five years and is completing her B.S. degree to continue onto dental school. Maria takes pride in ensuring her patients are receiving the absolute best care when they are in our office. She was born in Venezuela and moved to the U.S. with her family when she was younger. Maria enjoys trying new restaurants, watching movies and spending time with her two fur babies in her free time.
Kyla has been in the dental industry for seven years. She enjoys welcoming our new and existing patients when they arrive at our office. Kyla is happy to answer any questions you may have about our practice or upcoming appointment. She is also our resident expert for all questions regarding insurance and/or eligibility.
Kyla and her husband, John, live on the Southside of Indianapolis. They have three children, Jonathin, Jillian and Kinsley, and two fur babies, Dexter and Menace. In her spare time, Kyla loves being outdoors with her kids, baking with her daughters and playing card games with her family.